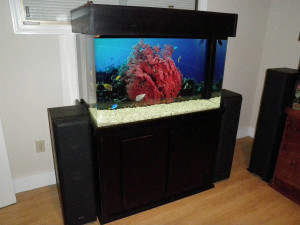 Aqua-Theatre System single TV                  42 inch 3D (passive) LED smart TV                   Aquarium dimensions:  40L x 24W x 25H Stand is 30 inches tall with a 7 inch canopy Total water volume 50 gallons             Wet/dry filtration in the back             Crushed coral on the bottom                 36inch standard T5 lighting (blue and white) 3 DVD players and stereo receiver with       34 inch tower speakers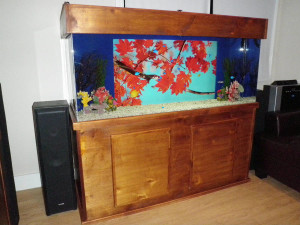 Aqua-Theatre System single TV blue back    42 inch 3D (passive) LED smart TV                   Aquarium dimensions:  60L x 24W x 25H Stand is 30 inches tall with a 7 inch canopy Total water volume 80 gallons             Wet/dry filtration in the back             Crushed coral on the bottom                 48inch standard T5 lighting (blue and white) 4 DVD players and stereo receiver with       34 inch tower speakers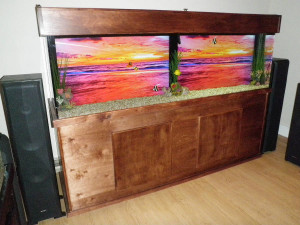 Aqua-Theatre System dual TV                    42 inch 3D (passive) LED smart TV (2)             Aquarium dimensions:  80L x 24W x 25H Stand is 30 inches tall with a 7 inch canopy Total water volume 100 gallons             Wet/dry filtration in back                     Crushed coral on the bottom                 36inch standard T5 lighting (2 sets)               5 DVD/1CD player and stereo receiver with 42 inch tower speakers
All the aquariums are made from acrylic so the viewing is crystal clear. Currently, the above three aquariums are the ones available for regular production.   Of course custom sizes can be made to house bigger TVs, but will cost more money.  I think an Aqua-Theatre Entertainment System with three 42 inch TVs would be a knockout.  These aquariums are not just another fish tank anymore, it is more of an entertainment system.
Sunset scenery.  Music:  Mozart "Eine kleine"
One surprising thing that I discovered viewing videos and pictures through the water, is that the picture quality is actually much better as opposed to watching it just on a regular TV.  As I was filling up a tank while having a video play, I noticed the picture getting really "solid" and more clear. The water enhances the depth perception, especially in 3D.  If you live near the Southern Maine area or coming to the area, please stop by our showroom to see the whole thing in action. There is much more to see than what I can show on this website.